The Palm Beach Proper is a newspaper in Florida, serving the town of Palm Beach, Florida in Palm Beach County in South Florida. It was founded in 2007 and it covers a range of topics including Art, Design, Culture, Society, Destinations, Enthusiasms and various subjects related to affluent lifestyle. Owned and published by The Proper Media Group.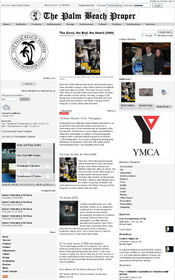 thumb|300px|left|www.ThePalmBeachProper.com
Official Website: www.ThePalmBeachProper.com
Ad blocker interference detected!
Wikia is a free-to-use site that makes money from advertising. We have a modified experience for viewers using ad blockers

Wikia is not accessible if you've made further modifications. Remove the custom ad blocker rule(s) and the page will load as expected.